Oops… somehow its nearly the end of February and I've only just got round to posting a roundup of how we got on.
Better late than never, here's 10 things we discovered during Veganuary:
1. The transition from vegetarian to vegan isn't nearly as difficult as I expected.  Sitting down to plan our first week's meals felt like a bit of a chore, but once we had got the hang of what we couldn't and couldn't eat, and worked out some substitutions and shortcuts, it was pretty straightforward.
2. We didn't miss cheese nearly as much as we thought.  And I discovered that its usually the saltiness of the cheese that I crave, so just seasoning well and adding salty things like capers and olives to pasta sauces, for instance, is a great substitute and also far lower calorie/fat/cholesterol.  I'm a bit of a chilli fiend, and found that turning up the heat also distracts you from a lack of cheese!
3. Tomor is a brilliant butter substitute for cooking and baking.  Try it – you won't believe its not butter.
4. You get used to soya milk in tea after 10 days.  After a dubious start, we're still using soya milk in our house, so it can't be at all bad.  We tried lots of other milk alternatives which were great for other things, but none beat soya in tea.
5. Most ready-made pastry is vegan. Who knew?  Obviously not the all-butter stuff, but this is a great thing to know about if you are cooking for vegan guests.  I've said it before…. everyone loves a pie.
6. Bird's custard powder is vegan. Who knew? Made up with hazlenut or almond milk it is absolutely lovely.  I cooked Sunday lunch for some very vegan-sceptic omnivore friends and they were absolutely not expecting apple pie & custard for pudding.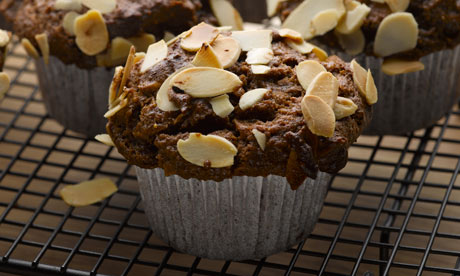 7. Baking isn't out of the question.  Start with this amazing chocolate cake, then try these dairy-free recipes – all by Dan Lepard for the Guardian.
8. The prefix 'vegan' makes things sound a bit less appetizing to non-vegans.  Sorry vegans, but I'm afraid its true. "Vegan custard", "vegan gravy", "vegan chocolate cake" – you're just not really expecting them to taste very nice.  Instead, just call them custard, gravy and chocolate cake, and let the vegans know they are dairy-free.
9. The hardest thing about being vegan was social situations. Having to refuse a slice of a friend's homemade birthday cake felt rude.  Whipping out a little tub of soya milk at a new mother and toddler group meant having the whole vegan conversation with a group of people I hadn't met before.  I had to insist on bringing our own food to a few parties and meals at friends houses, which was a bit awkward.  I'm sure you get used to these things if you are vegan long-term, but I struggled on this front.
10. Tweeting pictures of your dinner every day really makes you think carefully about portion size, meal balance (ie. where is the protein coming from), presentation, menu planning etc.
____________
So, overall a very interesting experiment and we are now eating far less dairy at home – still using soya milk and being far more careful with cheese.  We felt really good at the end of the month, and being forced to think more carefully about what we ate actually led to varied and interesting meals than we would have had otherwise.
I know there were a lot of veggie bloggers giving Veganuary a try – let us know how you got on and what you would add to the list above!